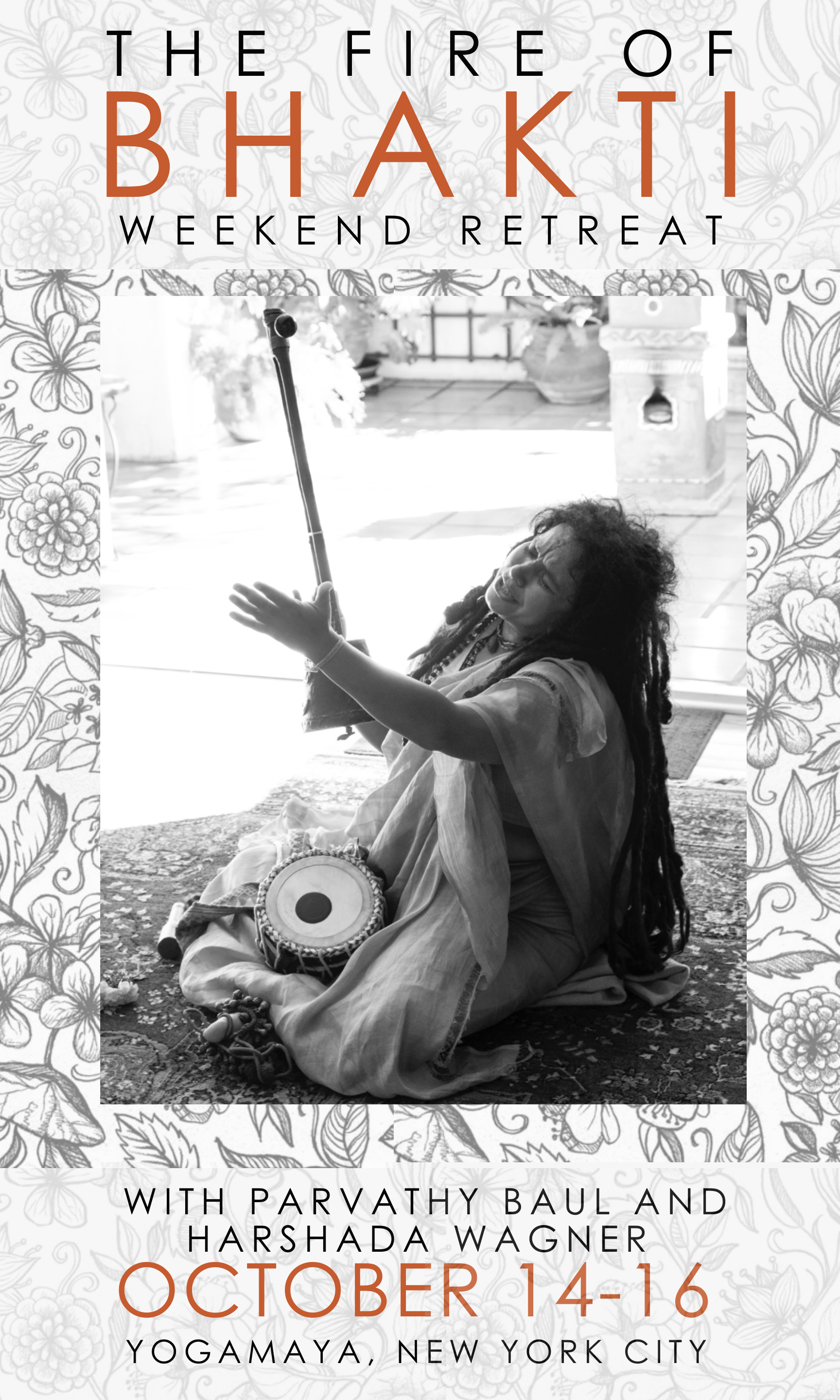 Join us for a very rare and life changing weekend. The Fire of Bhakti Retreat will delve into the path of Devotion and explore the qualities of being that we must cultivate to have a dynamic relationship with the Divine. We will be exploring the principle of samarpana or surrender on the path.
Parvathy Baul is master from a powerful ancient lineage of torch-bearers of the Baul tradition. The Bauls are the singing sadhus (holy people) in the Bengali culture of India. Parvathy has been immersed in the Baul life since a young age and is a treasure-trove of wisdom and devotional Shakti. To listen to her sing and watch her dance and receive from her the teachings of the songs is to be transported to a timeless and traditional kind of mystical learning.
Parvathy will sing traditional Baul poems and discuss the deeper meanings in the songs, and Harshada will lead meditations and facilitate discussion around Bhakti teachings from Bhagavad Gita, Narada Bhakti Sutra and other core sources so that we can take the ancient teachings and apply them in our modern life. The weekend will also include sessions of exstatic chanting and opportunities to enjoy New York City.
*NOTE Retreat fees do not include accomodations, but there are many easy options in New York near the venue.
Added Features to Assist in Learning
Before the retreat, the platform here will have videos and other materials to help you learn about the Baul path before the retreat. And after the retreat, we will have audio recordings of the live teaching sessions so you can refer to them after and not be worried about taking notes or recording the talks that Harshada and Mā are giving.
Rough Schedule:
Friday October 14
7:45 - 10pm Retreat Intro Session You'll get a chance to meet and greet Harshada and Parvathy Mā, and will feature Parvathy Mā singing and dancing, an ecstatic chanting session, and a general kickoff into the teachings of the weekend retreat.
Saturday October 15
9:00-10:30 AM - Optional Yoga Class taught by Yogamaya Yoga faculty.
10:30 AM- 1:00PM Morning Session with Parvathy and Harshada
Lunch Break
3:00 PM Afternoon Chai
3:30-6:30 PM Afternoon Session with Parvathy and Harshada
Dinner Break
7:30-9:30 PM Evening Retreat Session with songs and chanting
Sunday October 16
9:30 - Lunch (around 1:30 PM) Final Session with Parvathy and Harshada
We will discuss the teachings and themes from the weekend, chant and finish with a flower offering ceremony.
---
Email us with any questions: [email protected]
We're here to serve you.
This is a very unique opportunity that we want to make as accessible as possible.
Your Instructor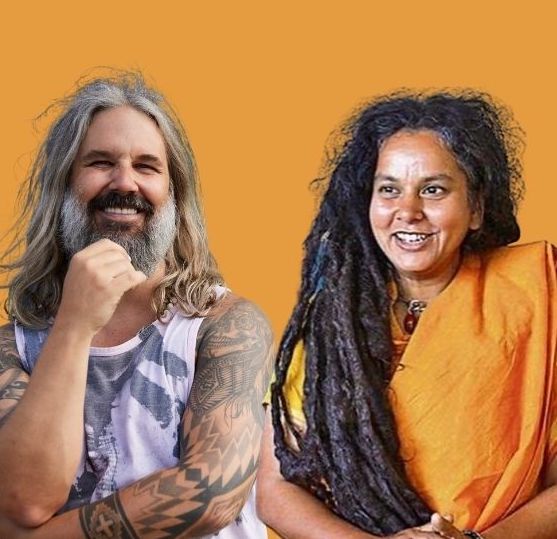 Parvathy Baul is a Master of the Baul tradition from West Bengal India. The Bauls are the mystic poet singers who carry a rich oral tradition of songs which encapsulate the most profound wisdom of the path of Bhakti or devotion. Parvathy is the lineage holder of two great Baul Lineages. Her gurus were Shri Sanatan Das Baul and Shri Shashanko Goshai. She travels widely singing Baul songs and teaching the Baul teachings. She created Sanatan Siddhashram, which is now established in Birbhum district of West Bengal where she teaches and hosts many great masters from the Baul tradition. Parvathy is also a visual artist and has studied traditional performing arts.
David Harshada Wagner has been teaching meditation and practical spirituality to all kinds of people since 1992. He has been classically trained in the Indian wisdom traditions of Vedanta, Yoga, Bhakti, and Tantric Shaivism, and works as a creative mindset consultant and sacred life strategist for people from all walks of life. To his close friends and students, he is known as Harshada - a Sanskrit name given to him by Gurumayi Chidvilasananda in 1996. He is the author of On the Field of Dharma - a modern practical application of the Bhagavad Gita, and is the founder of Big Heart Meditation.
Along with his teaching work, Harshada is also a visual artist and proud father of two. He currently lives in Ojai California.